FUSE
TEDxOhioStateUniversity
Client: TEDxOhioStateUniversity
Role: Motion and Visual Designer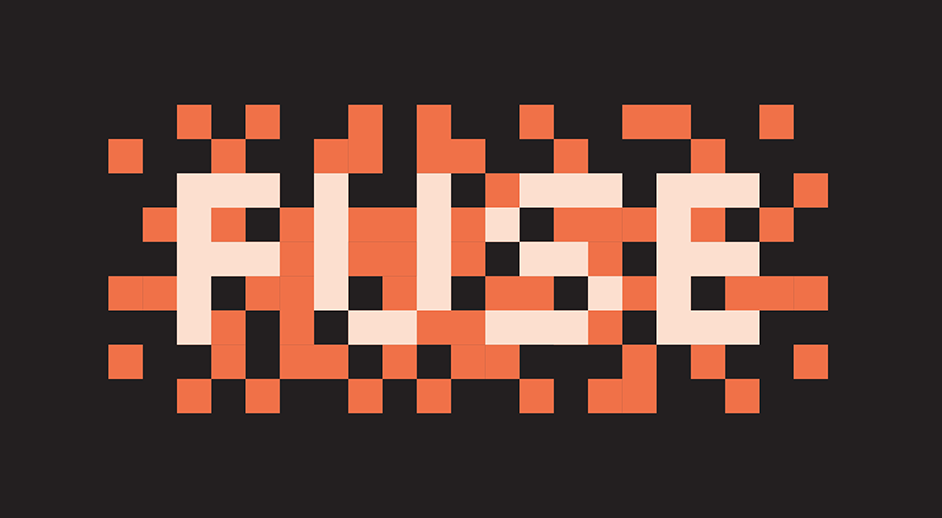 Fusing Ideas
TEDxOhioStateUniversity is an independently student run and organized TEDx group. The design committee's role is to create all of the graphics, motion and visual elements to that support the organization. Collaborating with my fellow designers, I worked with various vendors to create a memorable event that invited our audience to look closer at ideas and the world around them. Our partners at Bartha and Mershon Auditorium helped us bring some of our larger endeavors to life.
Event Animations
The motion design created for FUSE took the the original 2D logo mark and pixelation ideas into the third dimension. The initial concept for doing this was that the squares that made up the logo type were actually cubes viewed from head-on. This combination of cubes and squares can be viewed throughout the animated media created for the event. There are also several moments that explain how the two become one another, using an isometric camera to make everything completely flat when viewed in its "2D" state. These 3D elements are present throughout the brand and are also a very large part of the look of the stage for this event.
---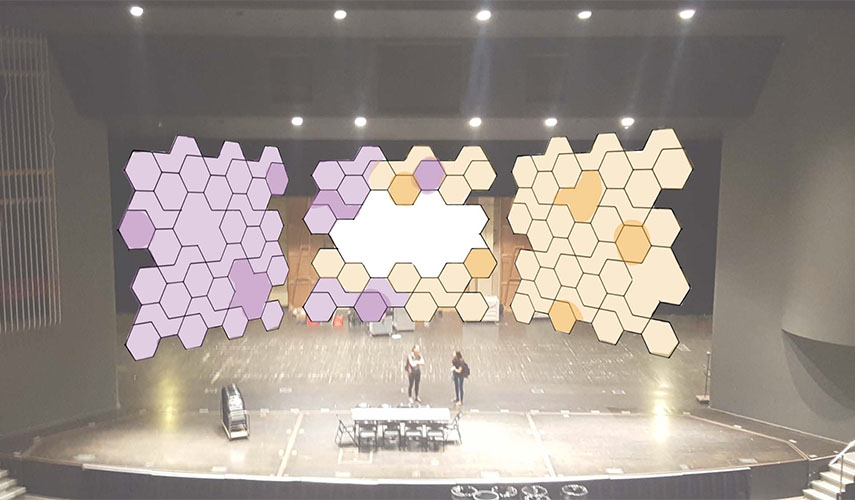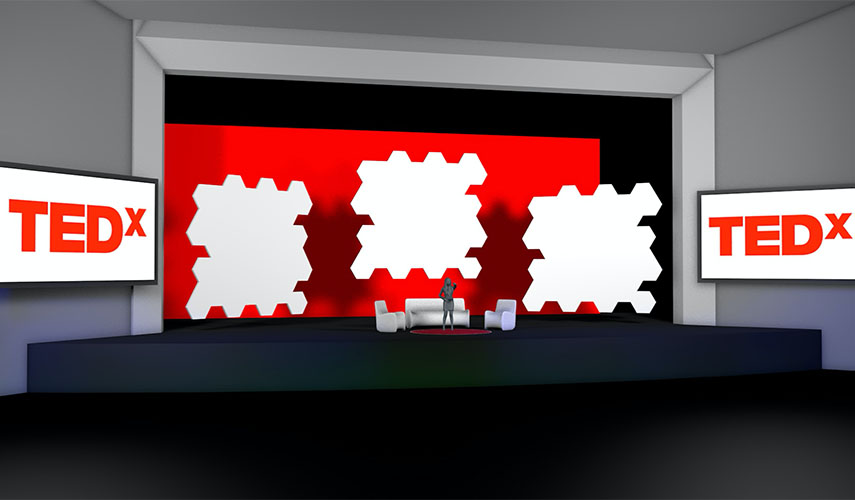 Initial Stage Concept
Our initial stage concepts involved a combination of large physical props suspended form the fly space with projection mapped media cast on to them. As seen in the initial concept sketch created by a fellow design team member, the perspective cube idea showcased in our brand would be created through projections that perfectly fit into the hexagon edges of the screens. Other media such as slides and footage of speakers would have been live cut into those walls of cubes. Unfortunately our budget did not permit us to pursue such an ambitious stage and we were forced to work out an alternative with our production company.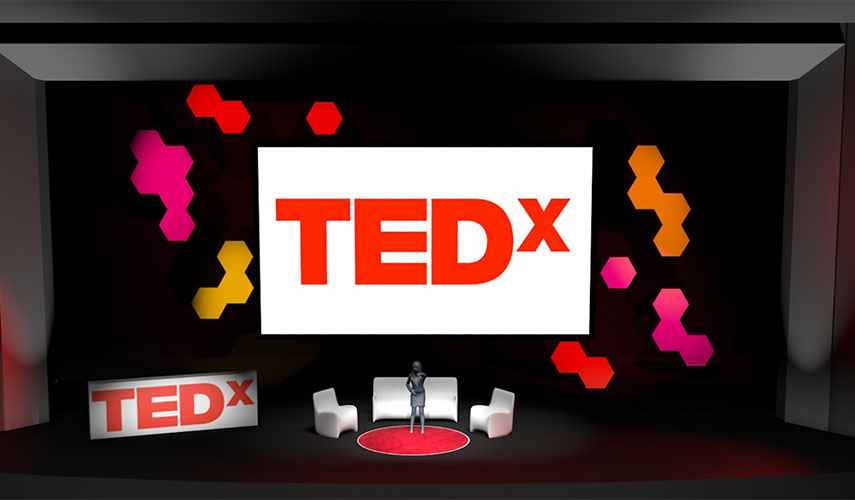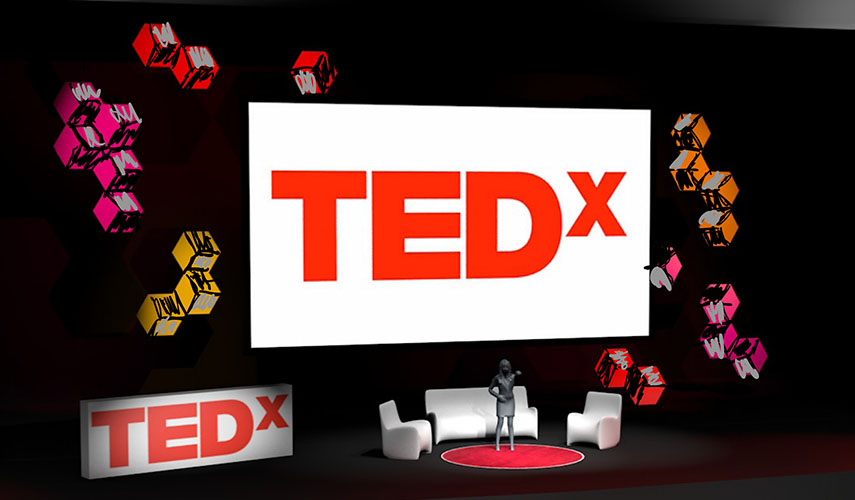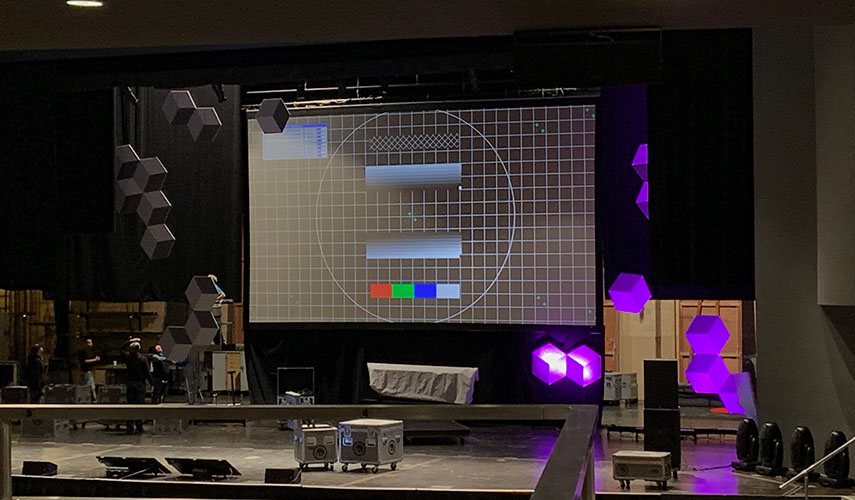 Final Stage
The parred down concept reduced our floating walls of cubes to clusters of tetris like debris suspended around our content screen. The initial reimagining inadvertently removed the branded component of the stage by reducing those perspective cubes to chunks of hexagons. I was able to approach our production partner with the idea of printing on to those props to remedy the issue. A simple tritone vector file with an included reference image to showcase orientation was able to perfectly create the illusion of suspended cubes. Large strips of LED lights placed below the show pieces added our brand color and completed the design.